Bella Vista Dumpster Rental
Renting a dumpster in Bella Vista is the first waste disposal option anyone who has a large amount of junk or trash to dispose of should think of. Not only does it make disposal of waste very efficient, it can also be very economical especially if you find an affordable Bella Vista dumpster rental company to rent your roll-off bin from. Ozark Dumpster Service is a reliable dumpster rental service in Bella Vista, AR. Contact us at (479) 409-2074 to rent a dumpster in Bella Vista today.
We Take Just About Everything
Some examples of the junk we haul away include
Refrigerator Disposal

Garbage Removal

Mattress Disposal

Foreclosure Clean Outs
Construction Waste Removal

Yard Waste Removal

Trash Removal

Appliance Removal
Television Disposal & Recycling

Furniture Removal

E-Waste Disposal

Hot Tub Disposal
Rent a Roll-off Dumpster in Bella Vista
You don't even have to have multiple tons of garbage to dispose of in order to rent a roll-off dumpster in Bella Vista. There are small and large size dumpsters available at affordable pricing that are especially designed for smaller projects regular renters typically have. Ozark Dumpster Services offers much needed dumpster rental services to people and businesses with both large-scale and small-scale projects in Bella Vista and the nearby areas. Which size of waste dumpster will fit your project?

Residential Dumpster Rentals - Anyone who has a project at home that involves disposal of more than the usual amount of trash or garbage could benefit from renting a residential roll-off dumpster. Renting a residential roll-off can also be necessary in disposal of some types of trash or debris that is not legally allowed for disposal in a regular bin.

Which roll off dumpster sizes are you looking for? Ozark Dumpster Service offers renters five different sizes of roll off bins they can choose from. We have containers beginning from small 5-yard and 10-yard dumpsters and larger containers beginning from 15-yard dumpsters, 20-yard dumpsters and even larger 30-yard dumpsters. We guarantee that all our dumpster sizes are designed for safe removal of commercial, residential and construction waste.

Commercial & Construction Dumpster Rentals - We are the 'go-to' dumpster rental service for both large dumpsters and small dumpsters in Bella Vista. If you need a large dumpster that is designed to accommodate roughly 6 to 7 tons of construction debris or commercial waste from cleanout projects, count on us to deliver the right size rental dumpster on time to your location. We are committed to providing affordable services that you can rely on.
Bella Vista Dumpster Rental Sizes
Do you need to choose the right size of container for your project but don't understand how to estimate the suitability of the available Bella Vista dumpster rental sizes to your project? At Ozark Dumpster Service, we are intentional in making renting a dumpster in Bella Vista as simple as possible. We have friendly and knowledgeable staff who are always on standby to guide anyone needing help to find the most suitable container size for them.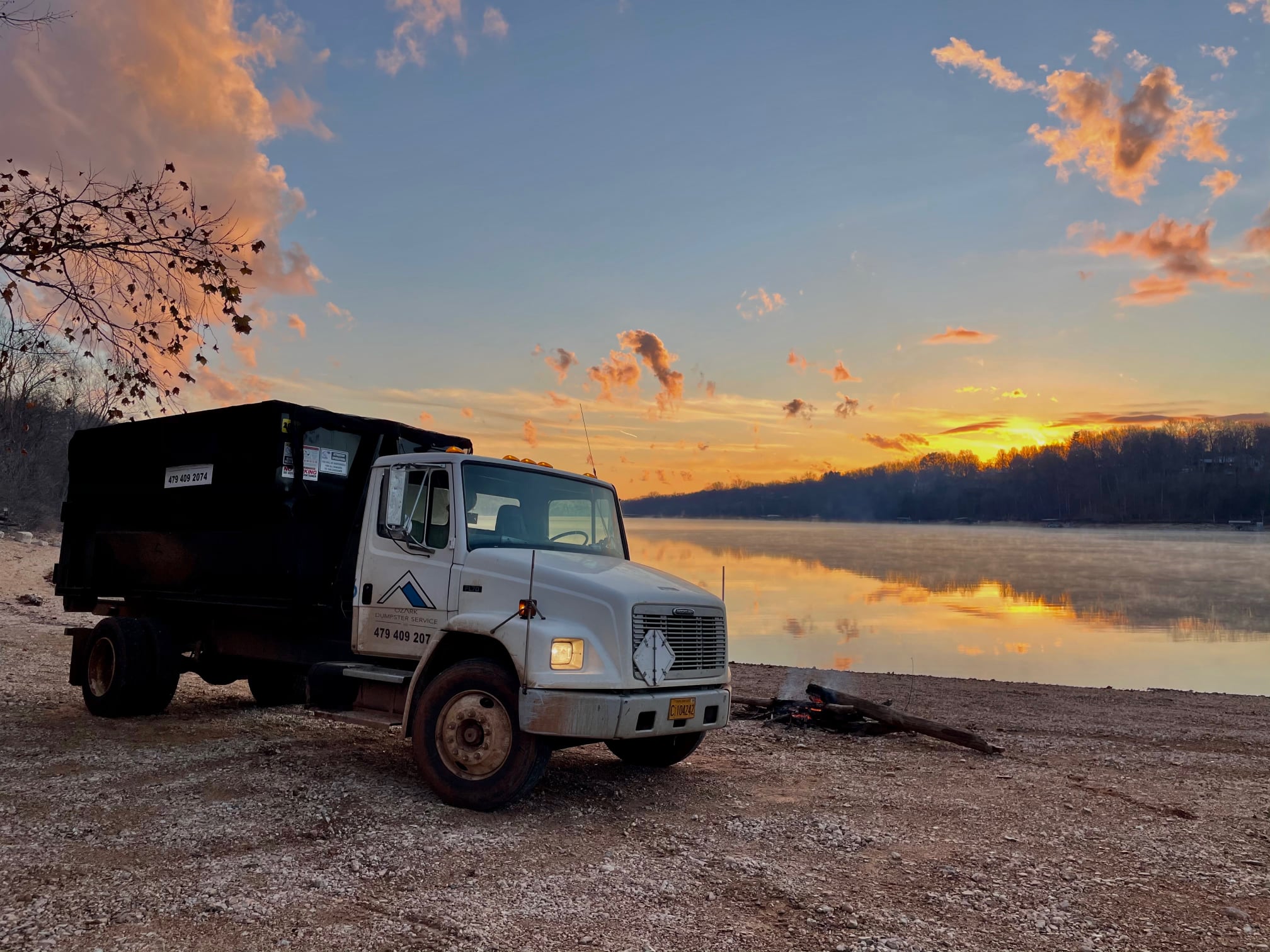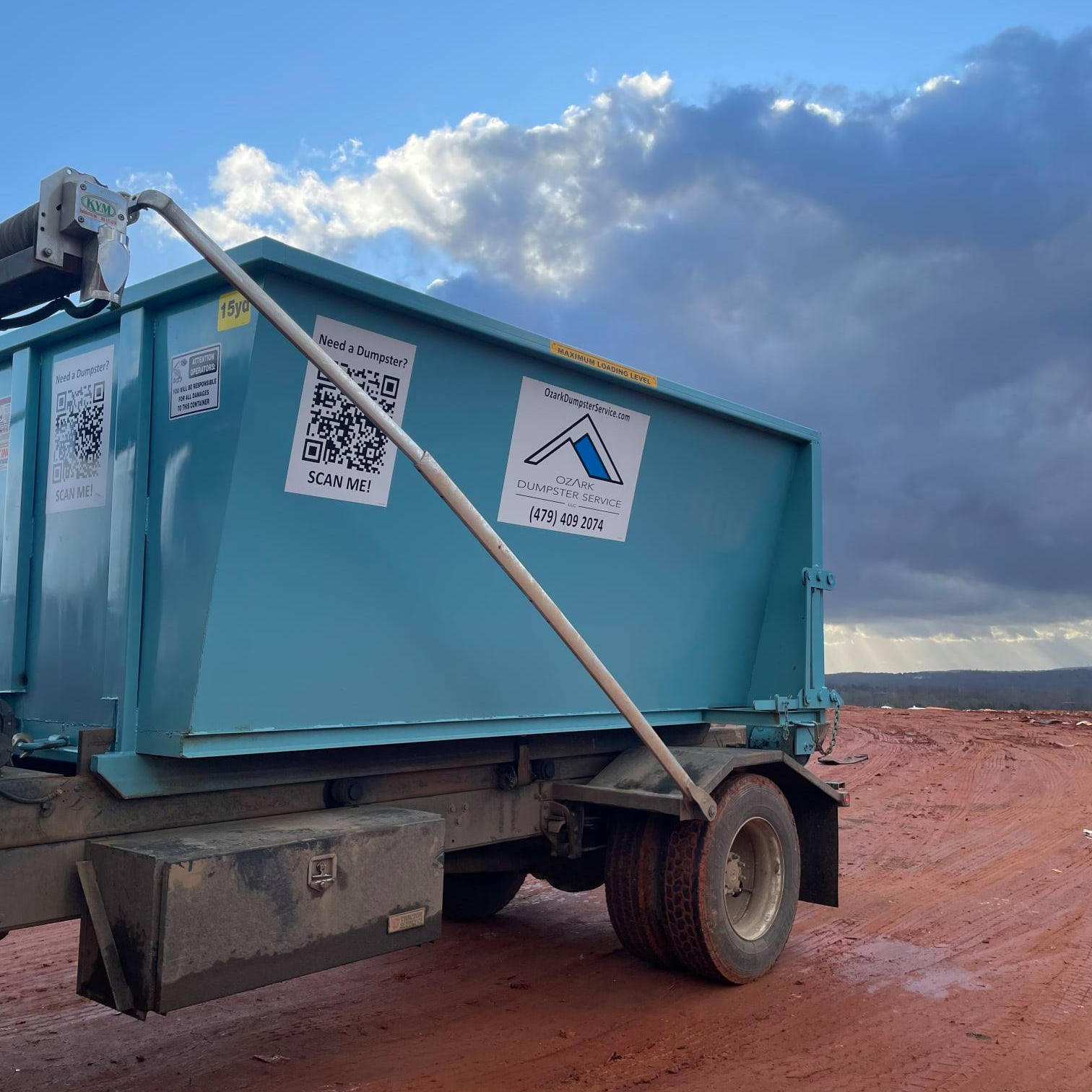 How To Rent A Dumpster in Bella Vista?
There are two simple ways you can use to rent a dumpster in Bella Vista. You can give us a quick call at (479) 409-2074 or use our online booking option to order your rental dumpster. Both ways are very efficient and we guarantee that you will have finished ordering your dumpster in less than ten minutes. Our dumpster rental costs depend on the size of dumpster one rents as well as the period the container is rented for.

Anyone who wants to rent a dumpster in Bella Vista should first apply for a dumpster permit before scheduling a roll-off container to be delivered, if they will be placing the container in a street, sidewalk or any other space considered as a 'public-right-of-way' area.

Ozark Dumpster Service delivers always on-time dumpsters in Bella Vista!

The Bella Vista Dumpster Rental Company You Can Rely On
Ozark Dumpster Service offers dependable roll-off rentals, all size dumpster options and the best dumpster rental pricing. This is why we are the Bella Vista dumpster rental company you can rely on. Whether you need commercial, construction or residential waste dumpsters, we deliver it on-time and at the best dumpster rental terms. We have your back! We also have dumpster rentals in Centerton, AR.