Centerton Dumpster Rental
Renting a dumpster in Centerton is the only stress-free way to haul a lot of garbage or junk for proper disposal especially if you are not up to making the several to and fro trips to the local landfill on your pick-up truck. If you find the right Centerton dumpster rental company, renting a dumpster will certainly save you a lot of time, money and unnecessary stress. Ozark Dumpster Service provides reliable dumpster rental service in Centerton, AR. Call us at (479) 409-2074 to rent a dumpster in Centerton today.

We Take Just About Everything
Some examples of the junk we haul away include
Refrigerator Disposal

Garbage Removal

Mattress Disposal

Foreclosure Clean Outs
Construction Waste Removal

Yard Waste Removal

Trash Removal

Appliance Removal
Television Disposal & Recycling

Furniture Removal

E-Waste Disposal

Hot Tub Disposal
Rent a Roll-off Dumpster in Centerton
You don't necessarily need to have a large project going on in order to rent a roll-off dumpster in Centerton. We provide a wide range of dumpster options to ensure that all renters are catered for regardless of whether they are looking to rent small or large size dumpsters. We also have very flexible rental terms and our customers can either call us or book their containers online and book convenient deliveries according to their schedules. Ozark Dumpster Service is committed to providing accessible and reliable dumpster rental services to every renter in Centerton and the surrounding communities.

Residential Dumpster Rentals - Renting a residential roll-off dumpster when you want to do a DIY home improvement like; a renovation, construction or home cleanout seems like a lot until you actually have to drive up to the nearest landfill more than once to dispose of the resultant waste or trash. A small roll-off dumpster is actually more economical considering the money in fuel and the time you will save.

Ozark Dumpster Service gives you a wide variety of roll off dumpster sizes to consider when you need to rent a waste disposal dumpster. We have dumpsters from our smallest 5-yard dumpster to our largest 30-yard dumpster. We have medium sized dumpsters in between that anyone can choose depending on the size of the project they intend to carry out or the budget they have planned for waste removal. We guarantee that one of our five dumpster sizes will be perfect for that project you are considering.

Commercial & Construction Dumpster Rentals - Most of our regular customers who order large dumpsters are construction companies and contractors looking for containers designed to handle large amounts of construction debris. Large dumpsters are also perfect for disposal or movement of large and cumbersome items that may not fit into smaller dumpsters. Whether you need commercial dumpster rentals or any other rental dumpster in Centerton, we promise that we will deliver it to your construction site or business location when you actually need it delivered.
Centerton Dumpster Rental Sizes
Do you need more information in order to figure out which one of the available Centerton dumpster rental sizes will best suit your project? If you will be renting a dumpster in Centerton for the first time and you want to choose the right size dumpster that will fit all your trash or debris at one go; our representatives are always available on the phone to help you with that. They are knowledgeable, very friendly and eager to help customers find what they need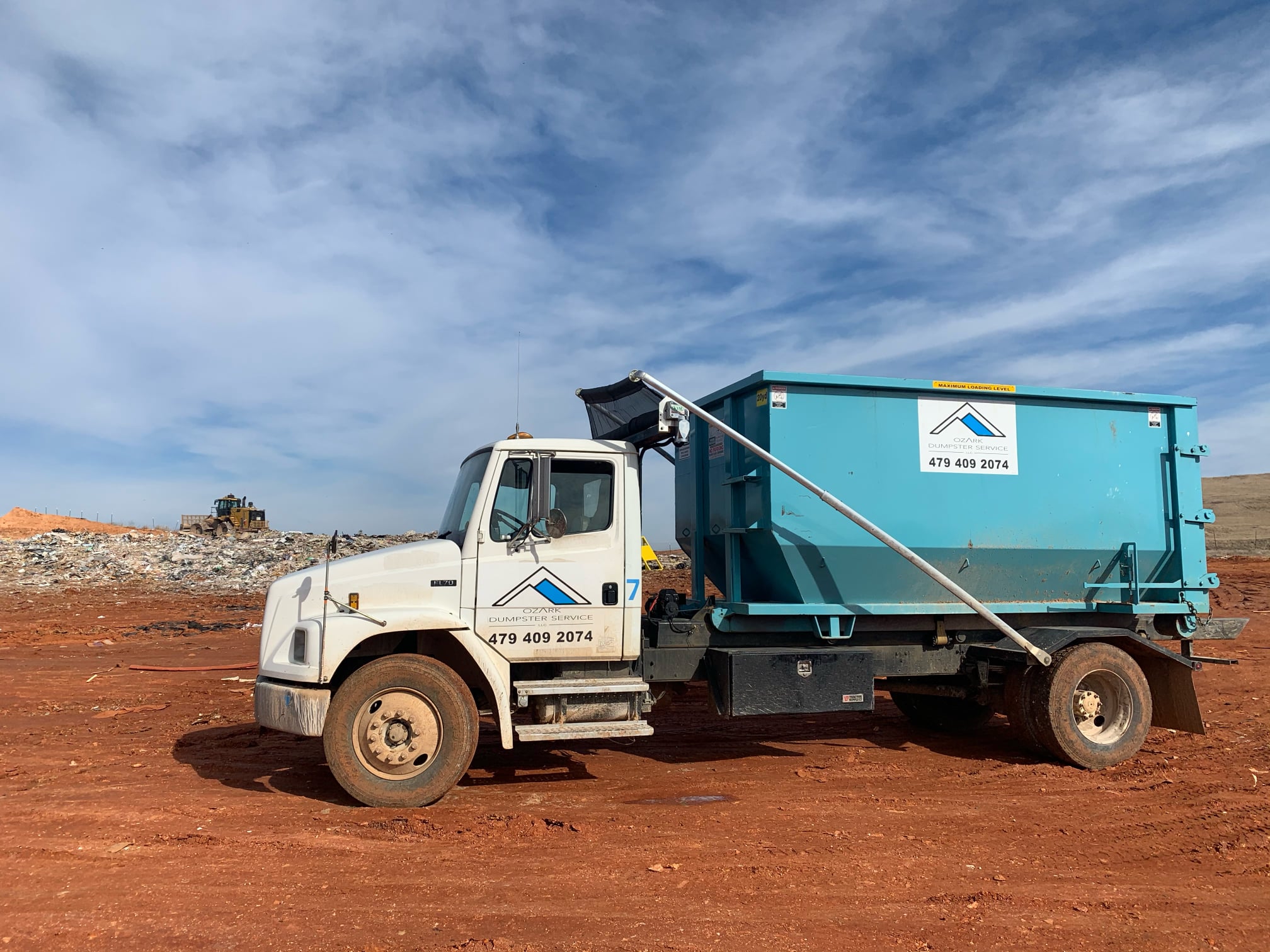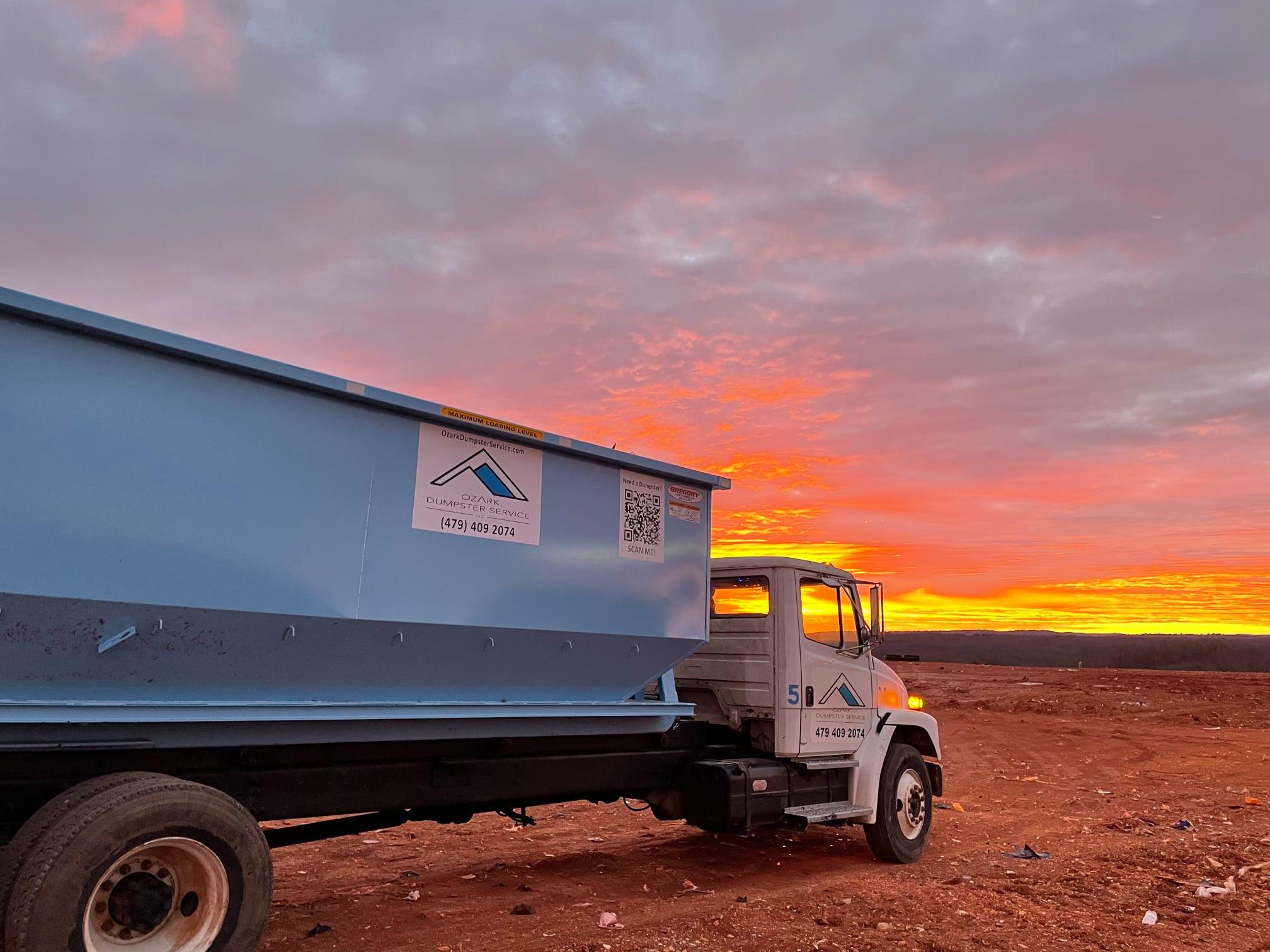 How To Rent A Dumpster in Centerton?
To easily rent a dumpster in Centerton today, call Ozark Dumpster Service at (479) 409-2074 or use the provided online booking option to make an order and schedule your ideal rental dumpster. Don't hesitate to let our representatives know if you need help figuring out the best dumpster size. We guarantee always on-time delivery to all customers.

City regulations require that any renter who wants to rent a roll-off dumpster must first obtain a dumpster permit before scheduling a delivery if they depend on a public street or sidewalk or any other place that is considered a 'public-right-of-way' in Centerton as a placement area.

Ozark Dumpster Service delivers always on-time dumpsters in Centerton!

The Centerton Dumpster Rental Company You Can Rely On
Ozark Dumpster Service offers dependable roll-off rentals, all size dumpster options and the best dumpster rental pricing. This is why we are the Centerton dumpster rental company you can rely on. Whether you need commercial, construction or residential waste dumpsters, we deliver it on-time and at the best dumpster rental terms. We have your back! We also have dumpster rentals in Farmington, AR.