Pea Ridge Dumpster Rental
Renting a dumpster in Pea Ridge may not be the first thing you think about when you have a project coming up, but it certainly is the most reliable and convenient waste disposal option for anyone who has no time to move around waste or take the multiple to and fro trips to the landfill. Depending on the Pea Ridge dumpster rental you pick, you can have a stress free, more economical and more effective waste removal. Ozark Dumpster Service provides low-cost dumpster rental service in Pea Ridge, AR. Call us now at (479) 409-2074 to rent a dumpster in Pea Ridge today.
We Take Just About Everything
Some examples of the junk we haul away include
Refrigerator Disposal

Garbage Removal

Mattress Disposal

Foreclosure Clean Outs
Construction Waste Removal

Yard Waste Removal

Trash Removal

Appliance Removal
Television Disposal & Recycling

Furniture Removal

E-Waste Disposal

Hot Tub Disposal
Rent a Roll-off Dumpster in Pea Ridge
The only requirement you need to rent a roll-off dumpster in Pea Ridge is waste to dispose of and a budget that will allow you to get the dumpster size you need. Various size dumpsters are available for rent, and these containers are designed with different hauling capacities to suit different scales of projects. Ozark Dumpster Service proudly provides affordable on-time dumpster rental service to construction companies, specialized and general contractors as well as small businesses and regular homeowners in Pea Ridge and the nearby areas.

Residential Dumpster Rentals - Who needs to rent a residential roll-off dumpster? Any homeowner who has a project to do at home and needs to clear and throw out waste from it. If the waste does not fit in a regular trash bin, or if the waste you want to get rid of is non-allowable in a regular trash bin, it is time to rent a dumpster. Students and apartment renters often rent our dumpsters for moving clean-up and junk removal projects.

What roll off dumpster sizes are available? Ozark offers a wide range of dumpster options including; 30-yard dumpsters, 20-yard dumpsters, 15-yard dumpsters, 10-yard dumpsters and the smallest container we have for rent, the 5-yard dumpster. All these containers have varying haulage capacities and are able to load different quantities of waste or junk from almost any kind of project, be it commercial, residential or construction.

Commercial & Construction Dumpster Rentals - Wondering where in Prairie Grove you can get a large dumpster for use in a large construction project? We have large dumpsters that can comfortably hold up to 6 or 7 tons of heavy junk, or construction waste. We also provide low-cost rental dumpsters for commercial waste disposal. Simply select the dumpster you need and have us deliver it to your location or business site when you need it. We can also guarantee that we will give you the best customer service all through the duration of your rental.
Pea Ridge Dumpster Rental Sizes
If you want to correctly choose the right size dumpster when renting a dumpster in Pea Ridge, ask for help from someone who knows Pea Ridge dumpster rental sizes better than you do. They will give you the information you need to make a knowledgeable decision and may even advise you if you need advice, based on the years' experience they have in renting out dumpsters for different projects.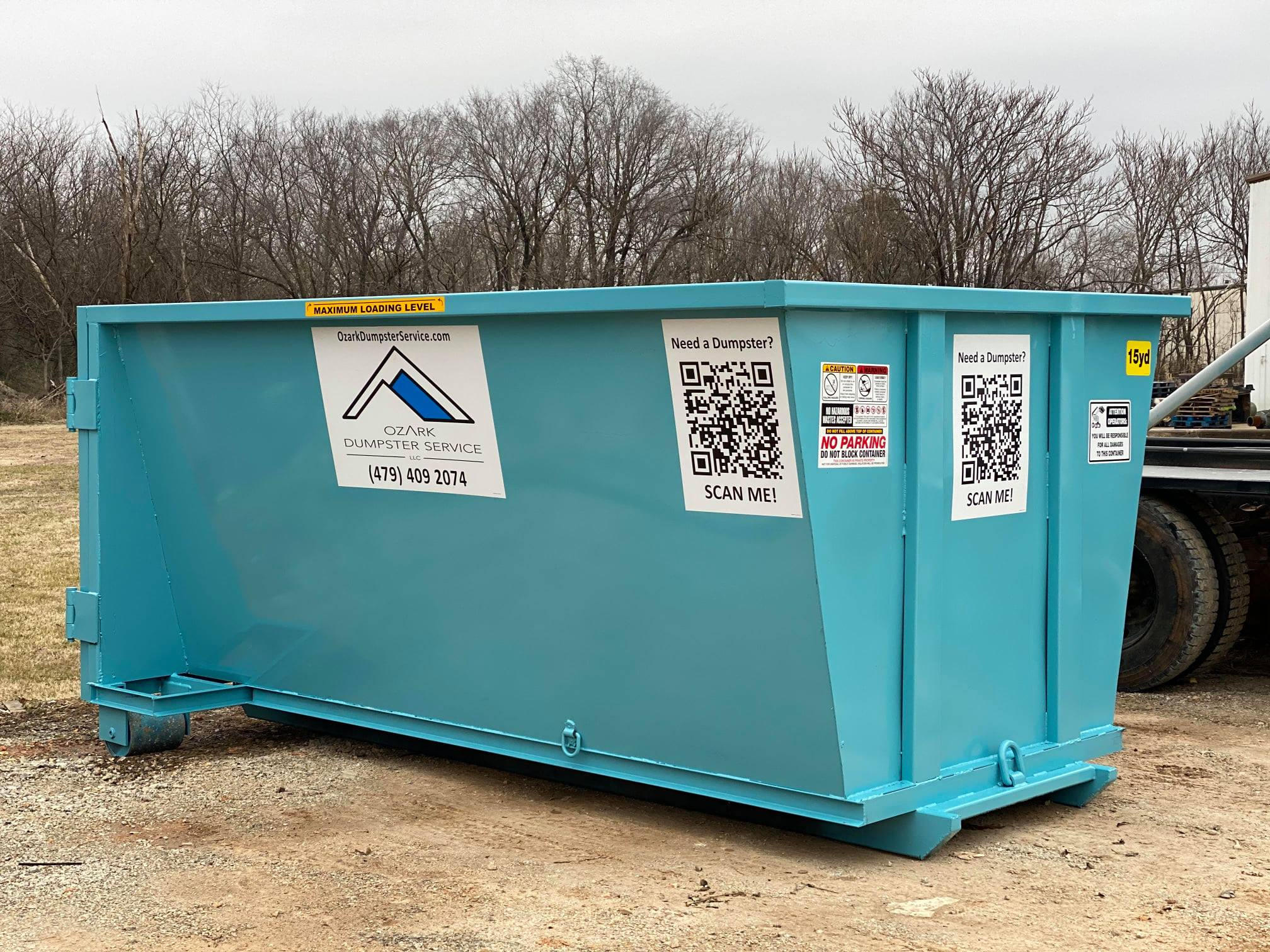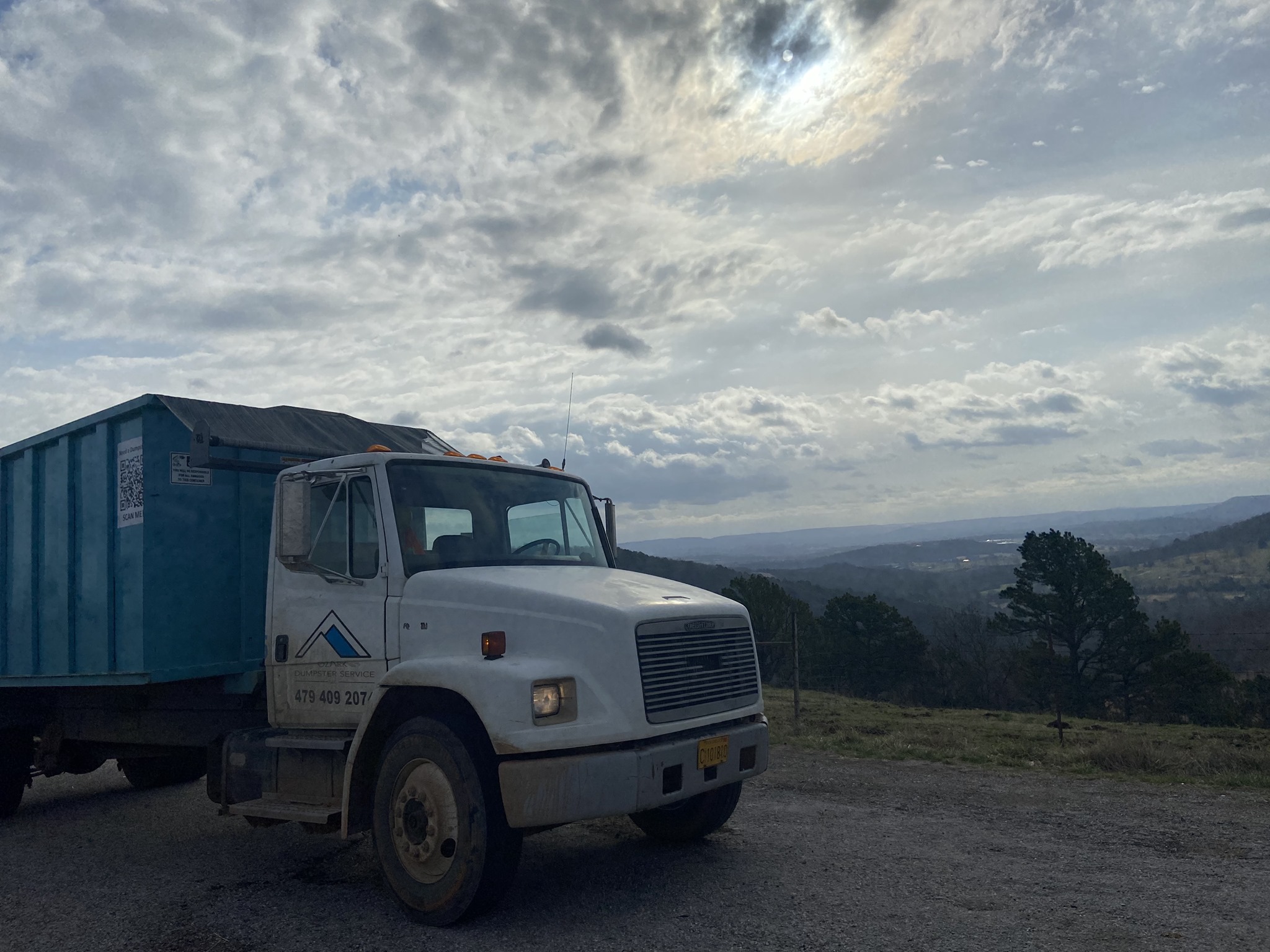 How To Rent A Dumpster in Pea Ridge?
Depending on whether you prefer talking to a person on the phone or booking your container online, you can either call us at (479) 407-2074 or use our online booking to rent a dumpster in Pea Ridge. Once you have selected a suitable container, paid for it and scheduled a delivery; you can be a hundred percent sure that we will deliver it to you as you've scheduled. Of course, we will notify you that your delivery is due in ample time so that you can prepare the placement site for your rental dumpster.

City regulations require renters in Prairie Grove who have no access to private placement areas, to first apply for a dumpster permit and have their paperwork on hand before actually going ahead to rent a dumpster and have it scheduled for delivery. The dumpster permit can then allow them to place their containers beside a street or area where the public naturally have a right of way.

Ozark Dumpster Service delivers always on-time dumpsters in Pea Ridge!

The Pea Ridge Dumpster Rental Company You Can Rely On

Ozark Dumpster Service offers dependable roll-off rentals, all size dumpster options and the best dumpster rental pricing. This is why we are the Pea Ridge dumpster rental company you can rely on. Whether you need commercial, construction or residential waste dumpsters, we deliver it on-time and at the best dumpster rental terms. We have your back! We also have dumpster rentals in Prairie Grove, AR.